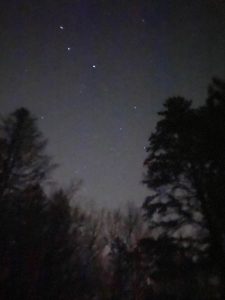 Where the Light Comes In…
… is where I try to be.  When we moved into our current home a few years back, I quickly discovered when and where the light comes in.  When the sun rises, it illuminates the sunroom, purifying the nearby lake in gentle, bright-eyed diamonds.  Throughout the afternoon, it wraps its warmth around the art room, greeting us window by window.  By the evening, at full charge, it generously and unabashedly lights the room on fire.  I situate myself accordingly, a groupie of the show.
Last night was a hard night for me in a white girl problem kind of way, especially under current worldly circumstances, so after dusk, I social distanced myself to a timeout/walk around our property.  As the sun wrapped its warmth around our other half, I perched myself on our firepit, admiring the black silhouettes of the trees against the gray of the sky. Pondering what exists between the shades, how far away the sky is, how much wildlife I was looking at without being able to see it, how convenient it would be if my wine glass would refill itself, and other existential questions, I noticed a little glimmer in the distance, like a star, but on my plane.  At the slightest shift of my gaze, it hid behind a tree.  I adjusted back, and it peeked out again.
As the COVID-19 pandemic has unfolded, I've felt helpless and hopeless, and unworthily fortunate.  In addition to the dying, the sick, the elderly, the vulnerable, and their families, I've had the front-lines on my heart – our healthcare professionals, first responders, grocery associates, couriers, truck drivers, distribution center staff, servers, airline personnel, garbage collectors, etc., and all of their families who share the same risks they do by association and selflessness.  Out of respect for those impacted (and to be a better human), I'm working on counting my rays and nothing else.
All of the heroes mentioned above (and the ones I've overlooked).
Bored, healthy children.
Fat, comedic pets to snap countless low-quality pictures of.
Work for a company who is doing all of the right things.
Customers who are showing up in really big ways.
A refrigerator full of vibrancy.
A body to do yoga.
A home to sanitize.
A property to walk.
Trees for wind to race through.
Toilet paper to…
The creek babbling to its next adventure.
A belly laugh with my husband over a ridiculously unfunny joke.
A husband who's becoming a Jedi Master of patience and a carpenter of character.
My sister singing and playing guitar on one hand, and petting my pot-bellied cat on the other.
My sister cackling in the sunroom, meditating on the front porch, and unintentionally levitating on the back deck, courtesy of today's windstorm.
My sister following me around with snacks and wine, a perpetual nomadic hostess.
My sister running into the screen door again.
My sister.
Poetry, philosophy, music, candles, Netflix.
The porch my husband built our cat. You read it right the first time.
Thunderstorms to pay reverence to and protect the dogs from.
Memes you wouldn't show your children or Grandma (but definitely, your Grandpa).
Wine. Friends. Virtual wine nights with friends.
Confirmations from my loved ones that they are well and safe.
Hungrier awareness.
Thirstier dialogue.
Breath to attend to.
Grace.
In the gray of the sky, amidst the dark of the trees, when I altered my position, the light came back to me; it was always there, just waiting to be seen.  By sunlight, moonlight, starlight and love, we are all in this together, in a bone-deep way.
So hang on to your light, as small as it may be, and when you have the strength, light the room on fire.