Because my recent travels were as rich and layered as their generous servings of tiramisu, I'm going to slice them into pieces, beginning with the first taste-bud bursting bite.
Last November, I was fortunate enough to make a dear new friend named Jacquie. With so much in common, our careers in technology sales, and love for philosophy, travel, people, adventure and the outdoors, we became fast friends, kindred spirits, consummated by patio hangs, summer brunches turned into dinners turned into midnight snacks, and Friday night Ann of Green Gables and Avonlea marathons.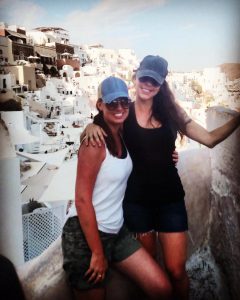 Last January, having heard of an organization called Trip Tribe which allows strangers to travel the world together according to their interests, Jacquie proposed we indulge in their Santorini, Greece yoga retreat. Immediately the feelers on my travel bug and tail on my down dog perked, but I'd seen this before, the we should all's, and suspected this too might fade into the deep abyss of dreamt dreams lost. What I didn't know and quickly learned is that Jacquie is a doer, a happen maker, a human dynamo.  Once she has your commitment, you can expect your registration confirmation within 24 hours.  So half a year later, as the sun set on Friday, July 14th, we were propelling toward it, tails in full wag.
After sixteen hours of wide-eyed travel, excitement overriding sleeping pills, we landed on the island of the snow white buildings that wear blue beanies, and sunsets that make your mouth water.  Bright eyed and bushy tailed, we all but somersaulted off the plane and cartwheeled into the shuttle-bus, tripping over our acorns, annoying any and all bystanders.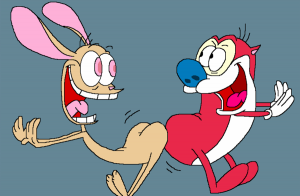 Up and down the mountain we wove, faces frozen in obnoxious smiles of glee, the clear blue Aegean Sea indifferent yet faithful beside us.  Thirty minutes later, we arrived at Pelagos, a villa resort off the beaten path kind enough to be a home, where we met strangers kind enough to become friends.  Twenty five yogi heartbeats, temporarily diverging from our independent paths to beat down one together.
That night, the handful of us who made it in on time acquainted poolside over dinner and drinks, under sun and stars, and I felt so proud of everyone without even knowing them.  To come across the world is no small feat.  To come across alone is no more comfortable.  Here we all were. And for six days we would be.  Practicing together, eating together, drinking together, wandering together, wondering together, and occasionally hanging over together.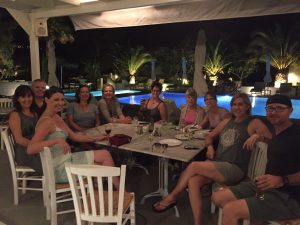 Day one was a therapist and a comic. After our first of many satisfying practices, with a belly full of fresh Greek yogurt, I walked past the curious donkey with inquisitive eyes to the wild beach behind him.  Traversing and appreciating it's dichotomy of silks and sharps, I passed only an old man, his back to the sea, throwing rock after rock at a cliff side.  With my dad's words in the back of my head, I resisted the urge to squeeze him, finding my own cliff instead, to ponder who and how he was, and who and how I was, for "the unexamined life is not worth living," after all.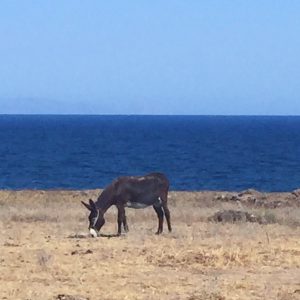 There I perched for hours, writing so hard I thought my hand might fall off and crying so hard I thought my brow might stick.  Waves gave and took, so steadfast and predictable, and roaring, drew me in. After battling beyond the rage, the water calmed and held me, salt licking salt licking salt, before delivering me back to land and life.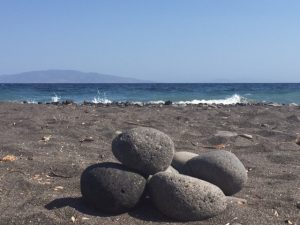 Returning from my treaty with the sea, I spent the afternoon by the pool with many of the others, massaging the furrows from my brow with laughter and wine.  We did flips and cannon balls and said silly things that would only ever be funny to us, 8th grade inside jokes. In the evening we indulged in a delicious, restorative yoga practice followed by a deliciously restorative dinner, proudly picked, prepared, and served by the generous Greek family who runs Pelagos.  After a few more nightcaps and conversations, Jacquie and I retired to our villa for our first of many starlit patio hangs, where our conversations commenced with, "I wonder…" and concluded with more laughter than profound revelations, before we retreated to our villa bunkbeds, settling into the crunchy embrace of hotel sheets on sunburns.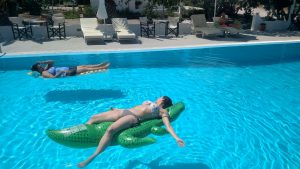 Day two was the high school boyfriend with no helmet and a lead foot.  A new, very sweet, very intuitive friend named Michelle, Jacquie, and I taxi'd it to Amoudi Bay for some diva danger.  There, we negotiated our way around a mountain, swam against a current, climbed up a cliff, and jumped.  Three times.  Because losing your belly just once into that bay of child-like exuberance isn't enough.  After realizing our high-fives were intimidating the adolescents, and with adrenaline fueling our appetites, we negotiated back and found a lunch spot so close to the water that if you tipped our chairs, to the water we'd return.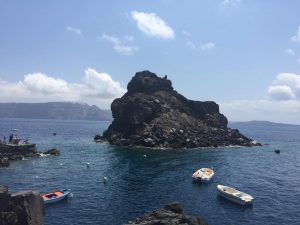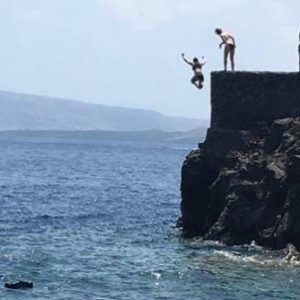 The sea continued to give, as fresh, sun-dried octopus and calamari (drying right above us) melted down our throats, encouraged by a sangria as flamboyant in fruit and flavor as an apple tree by dusk on a Savannah, summer day.  After our sustenance, we ascended the 300 stairs to Oia, barely resisting the urge to free the donkeys and imprison their master. At the top, we loved our friends and families in necklaces, crystals, artwork, postcards and books, and shared a bottle of wine and a 1/2 liter of secrets while overlooking the blue of the bay, before descending back to it.  Hot from the trek, we jumped in where we soon learned we weren't supposed to, courtesy of the not so courteous ship captain trying to dock in our pool.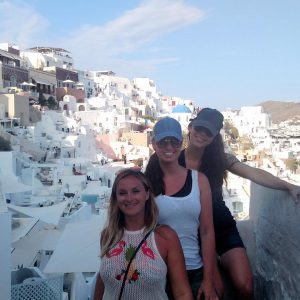 Sealing in the day with lobster pasta, a sunset, and some eye-lash batting exchanges with waiters who don't blink, we left the high school sweetheart(s) at the bay, graduating to the philosophers and artists…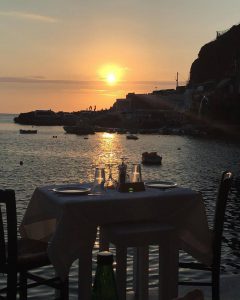 …who we met on day three. While it's uncharacteristic to fly into and out of Athens for only one day, it felt blasphemous to not. However, this is one of those bites more decadent than a mouthful, so to it, I'll return in my next post.
Day four was a faithful yoga instructor and teacher.  While Sara laid the foundation for and infused intention into every Santorini day, it was the day she orchestrated a field trip to trump those of elementary school.  The day of the catamaran where we bobbed up and down within clumsy waves, swam in crystal clear lagoons and not so hot springs, snorkeled by apathetic mountain goats, delighted in the fact that we could see our toenail polish as clearly underwater as above water, french braided each others' and strangers' hair, broke bread on a boat, broke ouzo limits on a boat, and basked in sunlight and companionship. It was the day I learned more about a husband and wife who I'd grown to admire, the unfair hardships they were overcoming, and was so encouraged by their unconditional love, courage, and perseverance, and touched by their healing process through yoga and Sara. It was the day we anchored far enough out on the water to watch the sun, as Katy would say, melt into the sea like butter.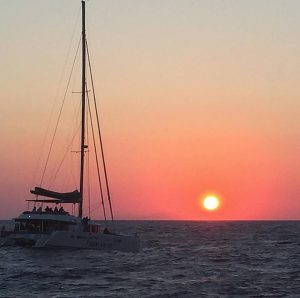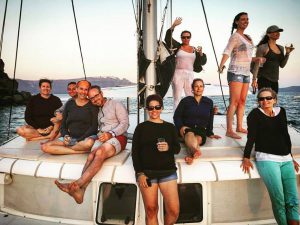 Day five was a Greek god or three. While my other yogis ran off for more exploring, in prep for our next-day flight to Rome and ensuing week of Italy, Jacquie and I opted to restore poolside, and I opted to spend most of my poolside barside. Day five began with an hour massage from a tall, light-eyed, dark-haired man named Marios who had strong hands and a gentle spirit, trained only by his own experiences with pain; as formal as it gets. Following my massage, the bartender Marcos, who could be Marios's brother but isn't, fashioned me a mojito, mint still breathing. Marios joined, the manager Antonis began his shift, and for the next few hours, they patiently answered my myriad questions, seemingly grateful for them.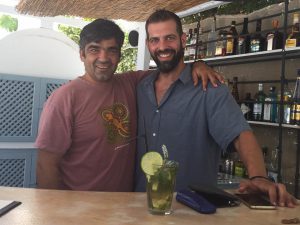 While I'm not a historian, I've learned that I appreciate travel and new experience best when I understand it's context; when I understand the history, origins, culture, current state, etc., so I had done my due diligence.  But what I learned on this trip is that there is little a book can give you that an experienced person can't, and much a person can give you that a book can't.
Through our conversation I learned more about their economic adversities, how so many have suffered, their political positions on the refugee situation, how they make ends meet, how many can't anymore, their seasonal setups between Athens and Santorini, that most carry off-season jobs, that family matters more than anything, that they'll even live together forever, that religion is less important than spirituality, that every question, in Socratic compliance, demands a series of more questions, that they'd like to travel but don't have the means to, but how despite feeling poor monetarily, they feel rich in beauty and in heritage, proud, and how to them, those are the more important metrics of wealth.
Upon asking how they felt about Americans, braced for their replies, I was pleasantly surprised.  They explained that twenty five years ago, they despised us.  We were obnoxious, impolite and entitled.  But that's changed and they believe it's because the younger generations became aware and now overcompensate as a corrective measure – which shocked me, because I've grown accustomed to the belief that we, the younger generation, have dismissed all conducts in comparison with our elders.
Yet they described us, among all nationalities, to be the most warm, honest, appreciative, and inclusive, sharing that during other yoga retreats held at their villas, individuals are excluded, but when the Americans come, we immediately congregate as if we're lifelong friends. In fact, they thought we were. Their only complaint was our obnoxious laughs and terrible accents, which they demonstrated through a poor NY accent, "Aaaaye man! get me a beeeaa!"
For six days, we were. Practicing together, eating together, drinking together, wandering together, wondering together, and occasionally hanging over together.  We shared what we could and protected what we couldn't.  Fell in love with each other's laughs, and in silent recognition and reverence of each other's tears. Squeezed each other's hearts with the stories that we shared, and squeezed each other's hands when we couldn't find the words.
If you want to travel but don't have a companion, converge.  Find courage in that convergence.  Let your days take on personas.  Tell a couple secrets. Pray for the man on the beach.