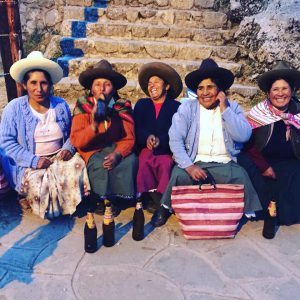 Because it's International Women's Day, and just because it's Wednesday, I'd like to toast some of my favorite creations.  Cheers to:
My Peruvian gals nestled in the Andean Village of Chinchero sharing Chicha and each other during a very happy hour.
Betty White, for her ageless wit, tongue-in-cheek orneriness, compassion for animals, and refusal to die. "Why do people say "grow some balls"? Balls are weak and sensitive! If you really wanna get tough, grow a vagina! Those things take a pounding!"
Harriet Beecher Stow for penning Uncle Tom's Cabin, exposing the reality and ugliness of slavery, fueling the abolition cause across the nation, and even worldwide. "Any mind that is capable of real sorrow is capable of real good." And then Lincoln, upon meeting her, "So you're the little woman who wrote the book that started this great war."
Mother Teresa, for her boundless love, bottomless sacrifice, commitment to everyone but herself, and reminder that we belong to each other. "If we have no peace, it is because we have forgotten that we belong to each other."
Ayn Rand, for her indifference toward acceptance, thought-provoking books, commitment to individualism, love for tidly wink music, enormous, inquisitive eyes, and for making me reread her insights three times before understanding them. "If you tell a woman that she is beautiful, you offer her the great homage of corrupting the concept of beauty." "Freedom (n.): to ask nothing.  To expect nothing. To depend on nothing."
Margaret Fuller for publishing the manifesto that may have inspired the 1848 Seneca Falls Convention, the first conference in America devoted to the issue of women's rights, during which a "Declaration of Rights and Sentiments" based on the "Declaration of Independence" was agreed to. "If you have knowledge, let others light their candles in it."
Philosopher Simone de Beauvoir for graduating as one of the first women from the Sorbonne, inspiring people toward personal freedom, and encouraging women to fight for equality and purpose. "Be loved, be admired, be necessary; be somebody."
Lucretia Mott, Elizabeth Cady Stanton and the rest of the "Suzy B's" for organizing the convention, which has continued annually through today.
The "beasts of burden" who cooked, cleaned, sewed, mended uniforms, tended to the ill and injured, herded animals, milked cows and foraged for food for their men at the war camps during the American Revolution.
Meryl Streep for her talent as an actress and for setting her recognition of it aside for more important matters. "That instinct to humiliate when it's modeled by someone in a public platform, it filters down into everyone's life because it gives permission for others to do the same. … Disrespect invites disrespect. Violence incites violence. When the powerful use their position to bully others we all lose."
Emily Dickinson, for challenging the conventionality around the expression of poetry and for sharing with us her light through her days of dark.  "To live is so startling it leaves little time for anything else."
Mary Oliver for her simple and eloquent love letters to the world.  "I don't know exactly what a prayer is. I do know how to pay attention, how to fall down into the grass, how to kneel down in the grass, how to be idle and blessed, how to stroll through the fields, which is what I have been doing all day. Tell me, what else should I have done? Doesn't everything die at last, and too soon? Tell me, what is it you plan to do with your one wild and precious life?" 
Anne LaMott for her strong faith, and ability to share rather than impose it. "I do not at all understand the mystery of grace – only that it meets us where we are but does not leave us where it found us." "You can safely assume that you've created God in your own image when it turns out that God hates all the same people you do."
Belle, for recognizing the beauty in the beast, and the beast within adventure. "I want adventure in the great wide somewhere! I want it more than I can tell!"
Helen Keller for breathing real life and hope into the sentiment that anything is possible, and deepening the hue of the meaning of adversity. "Although the world is full of suffering, it is also full of the overcoming of it." "Life is either a great adventure or nothing." "The best and most beautiful things in the world cannot be seen or even touched – they must be felt with the heart."
Mama Maria of Peru, for feeding and housing all of us volunteer babies, and being patient with our "Spanish." "Buenas dias Seniorita Joanna."
Rosa Parks for conjuring the fear-diminishing conviction necessary to fight for her place in the world. "I have learned over the years that when one's mind is made up, this diminishes fear; knowing what must be done does away with fear."
Cheryl Strayed for wearing her raw and bloody heart on her raw and bloody sleeve and arming others with the courage to do the same.  "What if I forgave myself? I thought. What if I forgave myself even though I'd done something I shouldn't have? What if I was sorry, but if I could go back in time I wouldn't do anything differently than I had done? What if what made me do all those things everyone thought I shouldn't have done was what also had got me here? What if I was never redeemed? What if I already was?"
Julie Andrews, for enlivening the hills with the sound of music and making black chimneys and umbrellas on blue night skies feel like a Vincent Van Gough painting infused with romance.  "I would be a fool to deny my own abilities."
Bea Arthur for not smiling much, but making others do so. "No fruit. No veggie."
Harriet Tubman for taking a much appreciated, life saving risk. "Every great dream begins with a dreamer. Always remember, you have within you the strength, the patience, and the passion to reach for the stars to change the world." "I had reasoned this out in my mind, there was one of two things I had a right to, liberty or death; if I could not have one, I would have the other."
Megan Follows for bringing us the innocence of Anne of Green Gables and Avonlea, the oyster of imagination, and the beauty of kindred spirits. "I'm so glad I live in a world where there are Octobers."
Amy Schumer for building my abs and laughing box, then fishing this random out of the deep end. "I want to quit. Not performing, but being a woman altogether. I want to throw my hands in the air, after reading a mean Twitter comment, and say, 'All right! You got it. You figured me out. I'm not pretty. I'm not thin. I do not deserve to use my voice. I'll start wearing a burqa and start waiting tables at a pancake house. All my self-worth is based on what you can see.' But then I think, F*** that … I am a woman with thoughts and questions and s*** to say. I say if I'm beautiful. I say if I'm strong. You will not determine my story – I will." Then this. "I made out with a homeless guy by accident. I had no idea — he was really tan, he had no shoes on. I just thought it was, like, his thang, you know? I was like, 'He's probably in a band."
Irene Ryan for giving us the feisty Granny Clampett of the Beverly Hillbillies. "Elly May done popped the buttons off her shirt again…It ain't her shoulders that have been poppin' these buttons." 
Michelle Obama for her quiet strength and dignity, place alone and place beside. "I am an example of what is possible when girls from the very beginning of their lives are loved and nurtured by people around them. I was surrounded by extraordinary women in my life who taught me about quiet strength and dignity." 
Elena Brower for making me feel like a human when I don't feel like a human, within 30 minutes and a yoga mat. "Use your beauty to serve others to find their beauty."
Marie Curie for being the first woman to receive the Nobel Prize in physics and for making me crave Indian food. "Have no fear of perfection; you'll never reach it."
Nora Ephron for her brilliant mind, castle of talent, and priceless contributions. "Whatever you choose, however many roads you travel, I hope that you choose not to be a lady. I hope you will find some way to break the rules and make a little trouble out there. And I also hope that you will choose to make some of that trouble on behalf of women."
Whoopy Goldberg for putting the f in nun. "I don't have pet peeves, I have whole kennels of irritation."
Malala Yousafzai for responding to hate with courage beyond her years. "My mother always told me, 'hide your face-people are looking at you.' I would reply, 'It does not matter; I am also looking at them.'"
Joan of Arc for being a total badass warrior before she even had her temps. "I am not afraid… I was born to do this."
Anne Frank for transcending bravery, empathy, wisdom, and undeserving forgiveness. "How wonderful it is that nobody need wait a single moment before starting to improve the world."
Tinkerbell for being so small in stature, yet big in heart. "All you need is faith, trust and a little bit of pixie dust."
Ellen DeGeneras because she's true to the base of her name, evoking as many tears from the heart as tears from the laugh. "You have to stay in shape. My grandmother, she started walking five miles a day when she was 60. She's 97 today and we don't know where the hell she is." Okay, maybe more tears from the laugh.
Annie Dillard for writing an earthy, caloric book full of attention and examination and worms. "The answer must be, I think, that beauty and grace are performed whether or not we will or sense them. The least we can do is try to be there."
Edna St. Vincent Millay for her pioneering and poetry and for making me feel like I should always be smoking a cigarette out of an opera length cigarette holder, even though I have no reason to believe she did.  "I am glad that I paid so little attention to good advice; had I abided by it I might have been saved from some of my most valuable mistakes."
Mae West for her denial of censorship and ability to make being arrested sound fun. "When choosing between two evils, I always like to try the one I've never tried before." She also makes me feel like smoking.
Agatha Christie for the excitement of Miss Marple and because she talks about dogs. "Dogs are wise. They crawl away into a quiet corner and lick their wounds and do not rejoin the world until they are whole once more."
Annie Oakley for her urgency and aim. "I ain't afraid to love a man. I ain't afraid to shoot him either."
Virginia Woolf for being progressive and right. "My belief is that if we live another century or so – I am talking of the common life which is the real life and not of the little separate lives which we live as individuals – and have five hundred a year each of us and rooms of our own; if we have the habit of freedom and the courage to write exactly what we think…" "Lock up your libraries if you like, but there is no gate, no lock, no bolt that you can set upon the freedom of my mind."

Ariel for sacrificing being able to breath under water for love. "Who says that my dreams have to just stay dreams?"
Elizabeth Gilbert for leveraging the aesthetic of Javier Bardem and challenging us to replace fear with creativity. "So this, I believe, is the central question upon which all creative living hinges: Do you have the courage to bring forth the treasures that are hidden within you?"
Sojourner Truth for speaking it, and being the first black woman to win a court case against a white man, courageously getting her son back and challenging, "And how came Jesus into the world? Through God who created him and the woman who bore him. Man, where was your part?' 
Maya Angelou for writing so simply that we can start understanding poetry young, and so profoundly that we want to know more. And, for introducing and concluding this post. "I love to see a young girl go out and grab the world by the lapels. Life's a bitch. You've got to go out and kick ass."  
On The Pulse of Morning
Here on the pulse of this new day
You may have the grace to look up and out
And into your sister's eyes,
Into your brother's face, your country
And say simply
Very simply
With hope
Good morning. 
— Maya Angelou