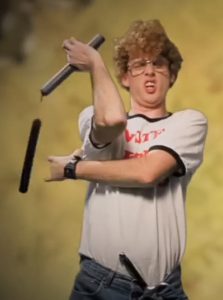 …and not so single ladies.  I interrupt this blog forum to bring you your fussy, protective, Italian Grandma, sans taste-bud shattering spaghetti sauce.  There have unfortunately been a recent series of violent assaults on women in my neighborhood, and one in a very safe and popular neighboring hood, during which a young, beautiful, vibrant 21 year old girl with a whole lot of loved ones and a whole lot of life ahead of her, was so sadly and senselessly robbed of it.
I know we know to be careful and that even if we are, it possibly doesn't matter.  We've taken classes on it in school, received lectures from Mama's and Grandmama's, learned awkward and questionably ineffective take down moves from fathers, brothers and uncles, and fought with friends over whether we were the yellow power ranger or the pink one.  But I also know we now have Facebook demands, tweet responsibilities, Instagrams to heart, time sensitive emails alerting us of Express's midnight madness sale, and texts that will self-destruct should we not respond within 30 seconds.  These things can often feel but never are more important than our surroundings, and this advent has fashioned a whole new pool of potential victims for predators.  So today I'm writing about some simple, basic measures we can take to potentially save our lives, and here is why.  The research says:
Physically, women tend to be weaker and smaller. You can be Joan of Arc or Annie Oakley but on average, we have 40% less upper body strength than men, and none of us have moves like Tombraider, not even Angelina.
18.3% of women in the United States have survived a completed or attempted rape.
The police force does their best, but they can't arrive at the speed of light. Studies show the average response time for an emergency call is 10 minutes, and the average interaction time between a criminal and his victim is 90 seconds.
Most violent crimes happen between 8 and 9 PM, which is when many of us are returning from work, class, kids' activities, running errands, shopping, happy hour, or in the summers, possibly a cool jog.
At the risk of sounding patronizing, here are some reminders on what we can do about it.
Look around. Before you leave your house, before you leave your car, essentially any time you open and close a door, and every moment in between.  Be perpetually aware of your surroundings and wear it on your sleeve – make eye contact as firmly and confidently as you'd shake the hand of your dream job interviewer.
Play "what if?" What if I get out of my car and someone is behind it?  What if someone walks into the school with a gun?  What if Taco Bell starts delivering?  Identify where you can take cover should you need to, and classify escape routes.
Return a phone call later. Or never depending on the caller, I suppose.
Give them everything they want (purse, wallet, phone), except you…or your dog.
Don't leave a safe haven until you're prepared to make it to the next safe haven. For example, before I park my car, all contents accompanying me into the house are ready for transport.  I try not to fidget around collecting my belongings.  My housekey is between my thumb and pointer finger arranged for immediate entry, and my mace in my other hand, finger on the trigger, should someone interrupt.
Avoid parking or walking next to vans, unless they have the stick figure bumper sticker family holding hands and baseball mitts.   Avoid those one's especially. 😉
"Do not go where the path may lead, go instead where there is no path and leave a trail." I love Emerson and this quote so much I tattooed it on my wall, but I treat it as metaphorically as it was written. Avoid walking alone post-dusk or pre-dawn.  But if you can't, even if longer, take the well-lit path over the dimly-lit path.
If it becomes clear that their motives go beyond robbing you, fight back. You may be at a disadvantage to overpower, but you can use simple, primal moves, like striking the eyes, throat or the groin.
If budget and time permit, take a self-defense class. The Best Martial Arts for Women's Self Defense compares Tae Kwon Do, Krav Maga, Jiu Jitsu, and Jeet Kune Do.  For my Northeast, Ohio gals, Akron-Canton's Martial Arts – Best of 2016 Hot List provides some options.  For my Columbus ladies, Yelp's  The Best 10 Martial Arts in Columbus, OH  If it's a reasonable option, and you have children, consider starting them young.  I'm not a huge fan of forcing a child into any kind of activity they don't enjoy, but if I was a mother, this would be the exception to that rule.
Arm yourself with as toxic a weapon as you're comfortable with.
If that's mace and you don't already have it, just buy it already. It takes less than a minute, can arrive in 2 days,  and you don't even have to put underwear on.  After asking some friends repeatedly if they'd bought theirs yet and not appreciating their answers, I bought it for them. $7.73 Police Strength SABRE Red Pepper Spray on amazon.com  Buy it for yourself, your friends, your daughters, and your Napoleons.
Another easy to carry and effective option is a stun gun: $19.58 Tactical Stun Gun with LED Flashlight – Extremely Strong Pain-Inducing Stun Gun for Self-Defense
And last, if your policy position on the 2nd amendment will allow it, bear arms. My lifestyle/policy position demands/allows it, so I do.  Because I know we're more hesitant to act on what we don't know how to do, if you have been interested in this form of protection but didn't know where to start, here are the steps I took.
Sit down with your brother, do some research on the Best Handguns for Women (this is only one of many articles), pick out a few that you like and call around to the local gun stores to see if they carry them (you can also skip this step, walk in a gun store and find a well-versed associate to guide you).
Buy a gun: Northeast Ohio Gun Stores, Columbus, Ohio Gun Stores – I went to Fin, Feather, Fur in Ashland, as it was on my way between home and home and highly recommended, and was very satisfied with my experience. The associate had me "try on" 10 guns, and thoroughly explained the pros/cons/differences before we settled on the best fit for me.  There may even be finance options if that's a concern.
Sign up for a concealed handgun license course. Many of the stores offer these, and there are other venues, as well.  My experience with Vance's Outdoors in Columbus was great; the trainers were extremely credible and quite literally disarming, before the shooting range at least.  The total course is $150 and 10 hours and can be broken up over a few evenings or taken in a day on the weekend.   After passing the course, you'll receive your Concealed Handgun License (CHL) Certificate.
Secure an application appointment with the sheriff's office of the county within which you reside or an adjoining county. I did this online through Franklin County Ohio Sheriff website, but it'll be different per respective county (and I did this before completing CHL class, to expedite the process).
Complete and bring with you the Concealed Carry License Application from the Attorney General's website, your CHL certificate, and call ahead to see what else you might need to bring. For me it was a 2×2 passport sized photo that has to be taken within the past 30 days, driver's license, and $67 in cash, no more, no less.  You'll submit the application, go through background check, fingerprinting, etc. and once cleared (usually within a day, unless you are a villain) pick up your license.
Practice a lot.
It's a bummer that we have to think about it all, but important that we do, because you're precious.  Your children need you, your parents would never be the same, and your great grandparents aren't ready to see you again just yet.