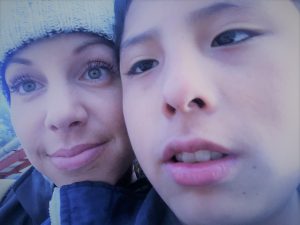 Why Peru? I've received this question a lot, and since the answers led to some of my most treasured moments, I'm excited to unlock compartment one of the chest (there will be another post, post-this post). Since my first acquaintance with suffering, I've felt inclined to protect against it as much as possible, and when impossible, hold its hand.  I did some research and settled on a childcare program in S. Africa, but after continuing to postpone it on the grounds of a pricey flight, I revisited my motive.  Why did I want to volunteer?  To help alleviate the suffering of the vulnerable.  When did I want to do it?  Now.  Where could I afford to?  In South America.  So why Peru?  For the history and mystery, and treasures young and old.
On Saturday, August 28th, 2016 I flew out of Columbus, Ohio at 12:15 pm and arrived in Cusco, Peru Sunday at 6:00 am, 18 hours, two connections and zero zzz's later.  It was winter there and cold, so the bikini I'd ignorantly packed was going to be as effective as the down jacket on my coat rack.  I was told there'd be a representative from the volunteer organization to greet me with a yellow smiley face flag, but I saw no smiles, and started to lose my own.  Fending panic, I tried calling the volunteer organization, thankful for the international data plan my Dad had subscribed me to, but Verizon had a different plan in mind, called failure.  After 20 minutes of faltering around in a sleep-deprived, anxious fog, I saw a flagless man with the name of my volunteer organization embroidered on his coat, and succeeding a broken Spanglish exchange, followed him warily to a fun-sized car.
The young Peruvian driver provided me with an informational packet donning my name on the front, and my stomach climbed out of the dungeon it'd dropped into.  He said a few things I wished I understood, and began to drive.  Peering out, I was instantly humbled, my aforementioned problems retreating, tails between their legs.  The streets collected piles of trash and the trash collected piles of people and dogs and pigeons. Somehow no creature minded the other, as they all dug for sustenance – maybe a shared empathy, careless of social order.  The buildings and roads, anything once envisioned and constructed, were in states of decay.  A gang of stray dogs moved begrudgingly from the street as my driver beeped.  An elderly lady stood outside of a decomposing cathedral, staring solemnly at what seemed to be nothing for what seemed to be a long time.
After a brief, everlasting drive, we arrived at my host family's adobe hut, headed by Senora Maria Vila de Parejo and Senor Adolfo Pareja Herrera, a retired teacher and her economist husband.  Maria greeted me with a warm smile and warmer hug, in her llama patterned fleece pajama set, a scarf that looked like Christmas stretching from her chest to her eyes.  Their casa, unheated, was cold but cozy, the walls bejeweled in captured smiles amidst Peruvian culture. It smelled exactly how a grandmother's house smells, like there's a perpetual cook in the kitchen stirring freshly picked herbs and spices into hot soup.
Realizing I spoke very little Spanish, she gave up trying and motioned me to follow her.  A beautiful, candle-lit shrine of the Virgin Mary and two flights of hobbit stairs later, the last case spiraling back out and up into the cold, and I arrived on my floor.  She showed me the bathroom and held my hand under the frigid shower water repeating, "caliente" and I thought, I must've mixed my Spanish hot and Spanish cold and I am nothing compared to Helen Keller.  Maria gave me my room key and left me alone to settle in.  The quiet felt so quiet, and the barks of the wild dogs and angry drivers, so loud.  As I unpacked, I thought about Cheryl Strayed alone in her hotel room the night before she embarked on her Pacific Crest Trail hike, and I remembered how she missed people.
Every move I made carried a commanding sound, and every command carried memories long gone.  Opening the drawer of my nightstand.  The sound of my wrist cracking.  The soles of my shoes as they moved across the floor. Untying my shoelaces.  Picking nervously at my finger nails. My heartbeat in my ears, like the tick tock of a Grandfather clock. My hand as it moves across this notebook, letter by exhausted letter.  I popped a sleeping pill and faded into an ambien haze for a few hours.  When I woke, I ventured out to the Plaza De Armas, map in hand, gut-punched again at the reality around me.  The lady on the street selling melons for un Nuevo sol, who laid her crying baby girl in an empty, cardboard fruit box to collect my payment.  The disabled homeless people and dogs with wagless tails.  I felt small and helpless, but very much alive within compassion.
In the plaza, I was enchanted by the illustrious Cusco Cathedral, the majestic architecture, crumbling shops, local street art, and ancient cobble stoned alleys dripping in Peruvian culture.  Before dark, I bought a hat, a coat, a picture with a llama and its lady, water and 3 cans of cerveza, and headed back.  I got just a hair lost, and a thankfully nice lady in a white car who spoke little English recognized it.  After Spanglishing back and forth until we could finally still not understand each other, she called Maria who's number I had with me, and Maria sent Adolfo quite literally around the corner to fetch me.  He guided me on the 30 second journey back, giggling and patting my hand all the way.
That night I experienced my first of many Peruvian "family dinners" with Maria, her sweet 5 year old granddaughter Sami, and the other volunteers.  Between belly laughs, Maria shared my rescue story, which a bilingual veteran volunteer Robert struggled to translate through his own laughs.  The evenings thereafter, Maria prepared a family meal for all of us, Peruvians, Americans, Europeans, Asians, some of us working in childcare programs, others in medical programs, some in jungle preservation, and others on the animal shelter project; perfect strangers breaking bread, meat, cultural barriers, and varieties on varieties of potatoes.
The next day I walked through the ghetto to my assignment, Juan Pablo II, an orphanage founded in 1985 as part of the "Foundation of the Children of Peru" who's objective is to support the Peruvian youth by offering them basic needs and a family.  There are 53 children, about 5 in each apartment ranging from the ages of 3-17.  From the outside, the orphanage resembles a prison, but I was pleased to find that the interior of the apartments themselves were adequately furnished, colorfully decorated and warm enough.  I met Marta, the house mom and my five boys, who ranged in age from 11-16.  I was surprised that we didn't know their stories, but my project leader explained to me that in a third world country with limited resources, record-keeping and case investigation sit low on the priority pole.
It took a day for most of them to warm up to me, but Rene, an eleven year old with suspected special needs took to me very quickly, following me everywhere. David # 1 and I played basketball together, until I bored him into a siesta by the court.  Another boy who had no interest in me at all and wouldn't tell me his name played marbles with David # 2.  At first, I sat silently and watched, rooting for them when they got excited and after about an hour, they started answering my questions and trusted in my interest.
Rene eventually led me back inside to a few sheets of torn, used notebook paper smeared in eraser marks, and some broken eraser-less pencils, motioning me to draw.  As I did, his eyes traveled back and forth from the paper to my hands to my face and he would occasionally burst out in happiness and hug himself and then me.  Then, I asked him to draw.  At first, he traced what I drew.  Then, he copied it without tracing.  And finally, created his own real masterpieces!  His focus was inspiring and his talent, impressive.  Eventually, we drew together.  One of us would start a drawing and then we'd take turns adding to it. We drew Scrat, the Ice Age character and then a Christmas tree to which we each added ornaments representing our likes, including the first initials of the names of everyone in the house.
The next day I brought them each their own drawing pads, notebooks, sets of colored pencils, and erasers and when the rest of the boys realized they had something of their own, they joined us.  That's how we spent our days.  Drawing, coloring, writing, teaching each other Spanish and English, doing crossword puzzles, playing Uno, marbles, basketball, and futbol, finding ways to understand each other, and listening to salsa and Norah Jones.
We got excited over things like crackers covered in spaghetti sauce, and lemons, and didn't turn on the electricity until we absolutely had to.  Soap and toilet paper were scarce, so I brought my own of each.  When they could use the electricity, they opted for R rated horror movies and were thoroughly disappointed when I ejected their preferences, inserting Pirates of the Caribbean instead.  At times, we disagreed and once, I had a knife pulled on me.  It was real life with adolescent orphan boys.  In some moments, it was scary, but in most, it was rewarding.  In reverence of real suffering, fear loses its power.
While watching Rene and wondering who he was and who he'd be, I remembered the loving, tender, invaluable observations my Mom wrote about me from the day of my birth through late childhood, and in a tugging moment, choked back tears, feeling so thankful I had had her, and so sorry that Rene hadn't.  I hugged him close to avoid a wet eye contact and after gathering my bearings, I drew his portrait as he had asked me to, my observation of him that proved to be invaluable to him, for after I'd completed it, he wouldn't put it down (even though it turned out to be more of a caricature.  When an orphan asks you to draw them, pride goes out the window).  One of 7.5 billion profiles, but one in 7.5 billion.
On our last day, we exchanged friendship bracelets and hugs that could've never lasted long enough.  In one of the harder moments of my life, aware I likely wouldn't see them again and that I have no control over their futures, more brokenhearted than I'd expected, I walked away.  Since the trip, in my guilt for leaving and the pain of missing them, I've wondered whether it's better to show up and leave so quickly, or not to show at all, and I've resolved that something is better than nothing, and we should do what we can.  "We know only too well that what we are doing is nothing more than a drop in the ocean, but if the drop were not there, the ocean would be missing something," Mother Teresa.
My job wasn't to change their worlds and secure their futures.  It was to show them kindness and love for as long as I could afford to.  To pay attention.  To help them see their worth.  To help equip them with the skills, trust, confidence, security and hope to one day change their own worlds and secure their own futures.
Why Peru?  For the lost Inca gold,  of course!