…when it begins with the self.
Some of you may have seen this message socializing on the media; perhaps even shared it as it might have spoken to you and your reaction to this pandemic.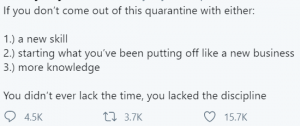 While I appreciate the author's personal drive, I disagree with his judgement of others for not sharing the same response, and I have concern with the anxiety, panic, self-doubt, and guilt that it can induce, for all of the reasons spelled out in this thoughtful essay by writer Annie Reneau, called A trauma psychologist weighs in on the risks of 'motivational' pressure during quarantine.  Some resonating quotes she cites:
"We are going through a collective trauma, that is bringing up profound grief, loss, panic over livelihoods, panic over loss of lives of loved ones. People's nervous systems are barely coping with the sense of threat and vigilance for safety, or alternating with feeling numb and frozen and shutting down in response to it all.
People are trying to survive poverty, fear, retriggering of trauma, retriggering of other mental health difficulties.
This cultural obsession with [capitalistic] 'productivity' and always spending time in a 'productive,' 'fruitful' way is absolutely maddening.
What we need is more self-compassion, more gentle acceptance of all the difficult emotions coming up for us now, more focus on gentle ways to soothe ourselves and our pain and the pain of loved ones around us…"
My hope is that you all are doing whatever it takes to breathe easy right now, be it learning new skill-sets or counting your toes again.  If you're feeling like me, that you could be catching up on your favorite books and the ones you've had your eye on, creating, listening to a podcast, watching a documentary, developing your work acumen, becoming a master chef, learning more about the wines that you're generously consuming, sharpening your political awareness, starting the garden you've been researching and becoming overwhelmed by, cleaning out your cupboards, filing away the loose paperwork that you'll likely never need again but are too lazy to read the whole document to come to that conclusion, practicing piano, or matching all of the household socks, but, you just don't wanna right now, these poems are for you, from the gentle gaze of a few of my favorite poets and humans…
This is the time to be slow,
Lie low to the wall
Until the bitter weather passes.
Try, as best you can, not to let
The wire brush of doubt
Scrape from your heart
All sense of yourself
And your hesitant light.
If you remain generous,
Time will come good;
And you will find your feet
Again on fresh pastures of promise,
Where the air will be kind
And blushed with beginning.
– John O' Donohue
When I am among the trees,
especially the willows and the honey locust,
equally the beech, the oaks and the pines,
they give off such hints of gladness.
I would almost say that they save me, and daily.
I am so distant from the hope of myself,
in which I have goodness, and discernment,
and never hurry through the world
but walk slowly, and bow often.
Around me the trees stir in their leaves
and call out, "Stay awhile."
The light flows from their branches.
And they call again, "It's simple," they say,
"and you too have come
into the world to do this, to go easy, to be filled
with light, and to shine."
– Mary Oliver
Whether you're lying low to the wall or shining away, you're right.  Here is how I'm meeting the "motivational" message challenge.
New [or improved, rather] skills: Professional Cat Cuddler, Pet Motivator, Flower Admirer and Moon Chaser

Starting what you've been putting off like a new business: Hammock Testers of NE OH, LLC (minimal competition)
More knowledge:

that a little bit of love goes a long, long way, and must begin with the self;
that right now, nothing is as important as giving myself and my family grace;
that the gaze that I cast both inwardly and outwardly has a profound impact on everyone around me;
that now is the time to gaze gently.
Love, moonlight, grace and daffodils to you and yours.  The socks will be there tomorrow and beyond.
<3 Jo