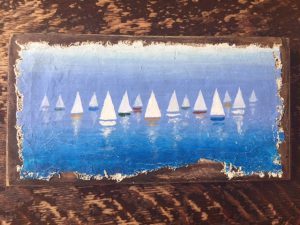 As I watch the white snow quietly coat the landscape outside the kitchen window on one of the last days of 2017, I'm reminded of a quote from an artist I met on the streets of Athens during my trip to Greece this past summer.  Because he picked to pop-up his portable studio outside of the Theatre of Dionysus, and because he looked like a sun-kissed Santa Claus, I automatically trusted him.  Impressed by the stories he painted to life and the life etched on his face, I purchased three of his works for others, and one for myself.  Grateful for the business or attention or both, he insisted I take another for free.  It was unfinished, he said, which felt right.  White sails atop colorful boats, floating on a sea of varying shades of blue. "I have a message for you," he said as he inscribed something in Greek on the back of the painting.  "White sails, the thoughts. Colorful trip will be," he interpreted for me. "It's about life," he went on.  Easier said than done, I thought.  After hugs and kisses, we sailed on.
Ironic this challenge seemed, to simplify thought in the place that promoted it's depth.  What would Socrates think?  On we traversed the land of the origins of so much, where the Golden Age glittered, the thinkers riddled, democracy took form, the skeletons of ruins still commanded.  We paid homage to the Agora, Acropolis, and Parthenon, flexed at the Temple of Zeus, and got lost every third street and 2nd glass of ouzo.   We saw a car take out a motorcycle, but thankfully, not the motorcyclist, witnessed a troubled economy and struggling people wake up and do it all anyway, and danced in the streets because why not … and wine.  After a full, fulfilling day, we sat backward on the train to the airport because it was pleasantly dizzying and belly flopping, watching the past recede into the distance and the day recede into my memory's "favorites" file.
Athens, Santorini, Rome, Orvietto, Tuscany, Cinque Terre, and Venice make a shortlist of 2017's gifts to me, beneath newfound friends, oldfound love, sweet reunions, family, healing, a promotion, and a home, and above a car break in and some unexpected veterinary bills.  Blessed has never been a comfortable term to me.  Along with miracles, it seems to infer a selection, election, a Calvinistic chosen-ness, manifest destiny, a me over the other guy type of deal either because I prayed more or swore less or turn signaled usually.  Blessed, I'm not, but lucky, especially within the context of a year like this, I'm very.  Thankful, I'm pouring.  Gratefully obligated, I stand.
Thanks to a dear family friend and former college advisor, I'm currently enjoying Art and Resistance Amid Turmoil, the Winter 2017 edition of ZYZZYVA, a San Francisco Journal of Arts and Letters, where I read poet, philosopher, and literary critic Troy Jollimore's essay, "Shawn's Late Night." While reflecting on my gratitude and luck, I remembered a passage that caught me:
And what of the unlucky?  Human beings can get used to almost anything, and one of the many things we have gotten used to is the existence of a great many people who have not been nearly as lucky as we have; people who are, in fact, in many cases, doing very poorly indeed.  There are surprisingly many such people, given how much stuff there is to go around, given the extraordinary technological advances we have made in the past century or so, and given that our basic ethical and political systems claim to be grounded in ideas about human equality, about the inherent dignity of all persons, and about the value of empathy and compassion.
It struck me so simply and poignantly, regardless of my opinions.  It felt so child-like and obvious beneath it's maturity and decadence.  Equality, dignity, empathy and compassion aren't red or blue, black or white, Christian or Muslim, oil or water, Tom or Jerry; they're concepts and efforts that most of us agree on.  If we could live by our claims we would win by our claims and some of us, myself included, are luckier, better equipped and thus more responsible than others to lead that effort, to pursue these concepts, financially or otherwise.  Yes, I've worked hard to "create my luck," but I'm informed enough to know that I've been armed with the tools and the workshop and the love and the "you can do it's" to do so.
While contemplating all of this, a little voice next to me says, "Dad, I've been wondering lately.  Why were we created, and when and how?"  My boyfriend's very bright, curious ten year old daughter inquires over morning coffee and hot chocolate.  After an unbiased explanation of the varying creation theories, purposes of life, how differing religions and philosophies perceive it all, how there's evidence to support every view and how people tend to settle on one, she resolved, "Well, I was thinking I'd like to get all of the evidence," and my heart and faith in humanity swelled a little.  Amen, Āmīn, तथास्तु, אָמֵן, little one.  A good question and a white sail.  That's what it takes.  The voyage toward clarity and truth, encouraged by the great philosophers of past and the great youth of present, is the ship I'll sail this year.
Cheers to 2018, to people over politics, pulses over parties, to the artists in the streets and at our kitchen tables, to the colors of our convictions and the purity of our sails.  Good luck.
My daily obligation … was, first and foremost, to learn how to make correct and careful study of the world … [I]f I didn't know what the world was like, how could I know what action to take? – Wallace Shawn, Playwright and Actor, afterword from Aunt Dan and Lemon