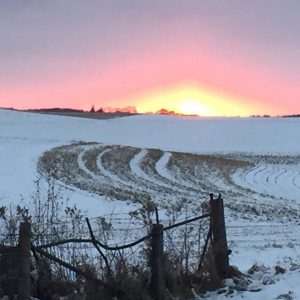 Kidding, but I did do Iowa.  Thanks to my job, I get to travel often.  My company holds and attends meetings and conventions in New York City, Denver, Lake Tahoe, Vegas, Boston, Orlando, Phoenix, Pebble Beach, Dallas, etc., most of which I get to join.  My actual territories however, where my clients and prospects reside, fall within the binds of the "don't judge a book by the cover" rule with the "fly-over state" chapters of North Dakota, South Dakota, Minnesota, Iowa, Nebraska, Oklahoma, Arkansas and Louisiana.
My team mates, mostly on the West Coast, post pictures of beach sunsets and mountain views, while I capture pictures from boat and truck museums.  When talking about my upcoming travel, I hear things like, "remember to talk slow…how many teeth will be at your meeting?" and I chuckle, because fun making can be funny, they can't hear us, and hillbilly jokes always work for me, because I am one.  And then I tell them what I've learned.
At 99%, Iowa has the highest literacy rate in the country, at 90%, they have the highest graduation rate, and they consistently rank top in the nation for SAT and ACT test scores.
They carry a 3.8% unemployment rate against the U.S. average of 5.4%.
With the second lowest murder rate and a low overall crime rate, it's the 6th safest place to live in the country.
Des Moines was named the "Wealthiest City" by the Today Show in 2014, and is regarded as a fast growing hub infused with a unique culture.
When it comes to Women's Rights, Iowa has always been way ahead of the curve.  In 1851, married women received property rights, and in 1869, we were allowed to practice law, with Iowan Arabella Mansfield serving as the first U.S. female lawyer.
Besides miles and miles of cornfields, Iowa also substances rolling hills, woods, lakes, rivers, the famous Loess Hills (dunes created by windblown soil during the ice age), and in Burlington slithers the windiest road in the entire world, "Snake Alley."
With more pigs than people, it's no surprise (and no disappointment, unless you're a pig) that they host a bacon festival.  Le Mars is recognized as the ice cream capital of the world.  And Iowa is also known for it's fresh fruit food markets.
It's full of art, theater, and poetry, hosting the best writers program in the country in the Iowa Writers' Workshop, which has graduated revered writers such as Kurt Vonnegut, Louise Gluck, and Robert Lowell.
It's the home of John Wayne, the field of dreams, and the place the music died.  They're pretty smart, mostly employed, relatively safe, economically healthy, culturally intuitive, progressive thinking, and sweet tooth (teeth!) sensitive. Beyond all of that, this hillbilly has enjoyed few experiences more than turning on cruise control, Johnny Cash, and driving forward down Iowa's honest, quiet, ruler straight roads into the setting sun.  It's a chapter well worth the read.