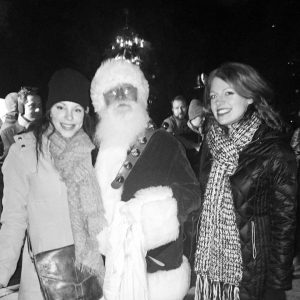 I like supporting local, so let's start there. For so many reasons, this first post is about my sister, Katy Hope.  Reason number one is because she insiste…  err… inspired me to get started.  When Katy speaks, you feel like you're swimming in a bowl of cursive alphabet cereal and silky almond milk.  The alpha bits synchronize excitedly to form the most eloquent of words, so effortlessly composed and dreamily served by her milky voice.  This spoonful was, "You really need to start your blog."  She's not always a dip in a cereal bowl.
More importantly, written in the stars by her middle name, she's a selfless force of hope and grace and fierce determination.   Even under the pressures of this holiday season, one that could've been bluer than it was for our family, her fire embraced and warmed the blue.  How did she do it?
Here's how to be a Katy Hope, or how to train your sister to:
Forget yourself.
Deliberately plan all of your minutes around everyone you love.
Spend an early December weekend in Columbus to help your sister-elf decorate her home, because you know how much she wants to, but that it's possible she won't.
Help her pick out a real tree and walk it half a mile to her home on your shoulders.
Decorate it over a bottle of champagne, cheese and crackers, and an Amy Grant Christmas record.
Indulge in Christmas cheer and new friends during her favorite event of the year, Village Lights, and treasure hunt the local biergarten.
The week of Christmas, drop all obligations where you live in Nashville and drive up unnecessarily early, five days before Christmas, to again, spend an evening with your sister in Columbus, regardless of any inconvenience.
On your drive up, pray a lot for everyone, and send "positive energy vibrations" (or whatever) to all your loved ones.
Bring a portable coffee maker because WTF is a Keurig going to accomplish this chaotic Christmas.
Bring your close friend, who has also suffered the recent loss of a parent, and may need a hug or distraction.
Take said friend to a cocktail party at a magical, antique, fairy garden house in Highland Square, surrounded by the loving family you've become a part of, complete with an impromptu ballroom gown dress-up sesh.
In honor of your Mama, wear her classic white turtleneck sweater this first Christmas Eve in 59 that the world hasn't had her; grace us with her smile.
Take your sister to a gift exchange at the magical, antique, fairy garden house with the loving creatives – enjoy a champagne toast, a whiskey cocktail, and beautiful artwork gifted to you and your sister by the loving creatives.
Rush to the side of a dear friend who's in crisis.
After securing friend's safety and wellbeing, truck it to the country, craft gin and tonics at your aunt and uncle's, and laugh and cry past midnight.
Sleep in your childhood bedroom and say your Christmas prayer at your bedroom window.
On Christmas day, in the kitchen of the farmhouse you grew up in where traditionally, your Mama made an exquisite Christmas brunch, spend hours replicating it for your family and friends as close as family; + homemade eggnog and Irish coffees.
Since your brother broke the traveling coffee maker, improvise with a large Budweiser glass – rock those beans.
Spontaneously break into sporadic dance moves that you learned in your hip hop dance class, followed by the "moves" you're learning in your ballet class.
Visit your precious childhood neighbors and play the beautiful guitar once owned by the loving husband and father they've been missing for years.
Take 3 red roses symbolizing her 3 children to your Mama, and wish her a Merry Christmas – turn to your sister, hug her, tell her through your tears and her tears that she's beautiful, smile gracefully, and lead on.
So, here I am.
Because my sister made me do it.
Because my soul allied with her.
Because my Mama would be proud.
Because she is.