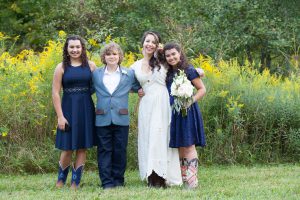 A Love Letter to my Children and Women Everywhere
Since losing my mama 4 years ago, the ensuing Mother's Days have been difficult.  This Mother's Day, it hurts much less, and that's because of each of you, and the love and light that you've emitted in my life.
Peyton – the way you laugh from your belly through your eyes will always make me do the same.  While you have many God-given and self-driven talents, your humility about it all (unless you're competing with your Dad) is refreshing and profound.  Since you were young, you've always been the voice of reason, ingesting the evidence, exercising your own thought process, running your results through a logic machine, and exerting your final opinion.  You are the quintessential, stead-fast, reliable big sister and first-born, and I couldn't be more proud to be your Bonus Mama.
Paige – you absolutely sparkle from the curiosity in your eyes to the creativity of your mind through the snaggle of your toenails.  Your quick wit and "tell-it-like-it-is" disposition summon numerous glances between your Dad and me, before it brings us to stitches.  You make the earth feel loved as you massage it with barefeet, catch, name and release its frogs, love on its cats and baby bunnies, climb its trees, picnic on its waters, read suspended above it in a hammock, and breathe it into your smile.  You are as sweet, and discreet, as the candy stashes you hide, always lending support to your siblings when they need it, but never wanting anyone to notice it.  You are a force, and I couldn't be more proud to be your Bonus Mama.
Connor – you are the archetypal family man and love in walk; from the way you love your sisters, to your parents, to your grandparents, to your aunts and uncles, to your cousins, to the hounds and the cats and all of the critters who are lucky enough to inhabit this existence with you.  Connor, "Lover of Hounds," a prophecy you've proven out.  I'm so thankful that you laugh at the little things, take tradition as seriously as Special K Chocolately Delight, dance when you wanna and reteach me Chess every time we play, without ever losing patience.  One of these days, I still won't beat you.  For all of my days, I'll love you with all that I am and be so proud to be your Bonus Mama.
My crew  – I promise to forever defend you against the spiders, nightmares, and basement monsters; to apologize when I'm wrong; to always lose in Clue; to balance your vegetable intake with sparkling grape juice; to tell Alexa to turn the song up "notches" and practice all other outdated vocabulary; to tuck you in for as long as you would like me to; to protect Boxer from your Dad; to love you as if you were my own because to me, you are, but to always honor the fact that your birth mama is your first mama; to be a sounding board, life coach, present listener, ally, safe place, and one of your biggest, proudest fans.  I love you with all that I have to love with.  Thank you for making me a Mama.
To Mama Earth –
I love you more than anything in this world, next to the humans that you generously and selflessly host, and the art and inventions that you inspire them to create, especially my dishwasher, especially now.  Thank you for your hospitality, and I'm sorry that some of us still don't recycle.
To All Women and All Mama;s –
I think that motherhood presents itself in a multitude of ways and that a mother, at the most elemental state, is one who takes care; a mother by heart and by practice. Offspring or not, these are the nurturers, the caretakers, the selfless, the oracles, the friends who eat Chinese take-out and binge watch Netflix with you for a series of weeks when you're having a hard time.  They're the ones who text to check in and recommend podcasts and books that they believe will make you laugh and/or think.  They are the teachers, coaches, medical professionals, mental health providers, leaders, foster caregivers, orphanage personnel, animal rescuers, assistants, songwriters, verse writers, law enforcement, aunts, sisters, friends of your mother, and my very favorite, massage therapists.  They challenge you, grow you, listen with open hearts, and carry backpacks full of burdens. They're the ones who have been trying to give birth without avail, and who have given birth and lost – they're the grieving, the tired, the determined, the scared, the courageous, the ones who've lost their mothers and the ones who've lost their babies. They're the ones who call you for your shit and celebrate you for your weirdness. They're the social workers, humanitarians, activists.  The ones extending life beneath the ground and worshipping in the wind.  The ones who are still toying around with the "should I or shouldn't I and am I missing out and am I enough if I don't and what about my legacy and what will people think" conundrum, and still mothering through it all. They're the ones who birth life literally and/or figuratively, in heartbeats and otherwise.  They are present, patient, aware, compassionate, empathetic, open, and often, none of that at all.
To my Mama –
You are all of the above, and you are all of me. Most of the time, I wish you were here; that you could see it all and feel it all with me, and then most days, I'm reminded that you are; by the conviction of the thunder, meditation of the rain, and return of the sunlight.